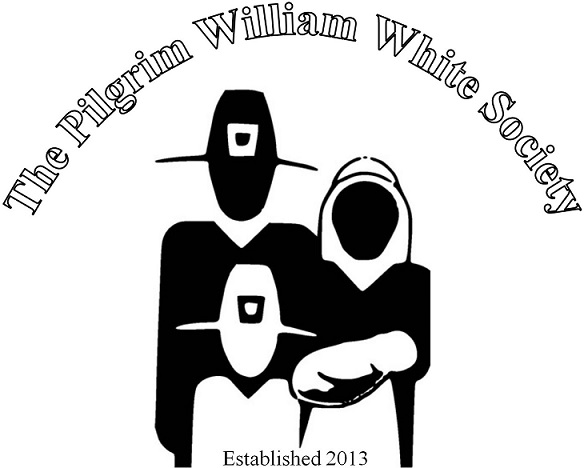 A Brief History of The Pilgrim William White Family

Although much has been written about the Mayflower's passengers and crew, little is actually known about the origins of William White and his wife Susanna. Modern research methods and the discovery of correspondence between Edward Winslow and Robert Jackson in 1623 have disproved the old theory that Susanna's maiden name was Fuller. Her true maiden name remains unknown.

Although it is not clear exactly where the White family--William, Susanna, son Resolved and two servants--boarded the Mayflower, William Bradford later described White as a London merchant.

The Mayflower was a Dutch cargo fluyt which usually transported wine and dry goods. However, in September 1620, it set out to cross the North Atlantic with 102 passengers plus anywhere from 30 to 50 crew members. An account of the voyage describes the cramped conditions aboard ship.
After a stormy crossing which lasted more than two months, the Mayflower reached the New World--but far north of its intended destination, the Jamestown Colony in Virginia.

When winter winds prevented the ship from sailing south, the Mayflower passengers decided to found their own colony and drew up a governing agreement which became known as the Mayflower Compact. Forty-one adult men signed the Compact on November 11, 1620, William White among them.

The Pilgrims were able to build only one structure on shore before winter settled over the land.
The passengers were thus forced to spend the next several months aboard the Mayflower. In late November 1620 (the actual date is not known but is thought to be November 20th), Susanna White gave birth to a son whom she and William named Peregrine.
Roughly half of the company succumbed to illness during that first winter in New England. William White is known to have died on February 21, 1621. He was most likely buried in an unmarked grave on Cole's Hill in Plymouth, as were most of the Mayflower passengers who died that winter. His name appears on the Pilgrim Memorial Sarcophagus that was erected in 1920-1921.

On 12 May 1621, Susanna White, left a widow with two small sons, married Edward Winslow, whose wife Elizabeth had likewise died. Edward Winslow eventually became a prominent member of the Plymouth Colony, being elected governor three times. He and Susanna had five more children together, although only two lived to adulthood. Susanna was known to have been living in 1654, when Winslow went back to England, but the exact date of her death is unknown. Her grave is in the Winslow Cemetery in Marshfield, Massachusetts.
© Copyright 2015, The Pilgrim William White Society. Last revised 11 August 2015.